Tips for HIring the Right Photographer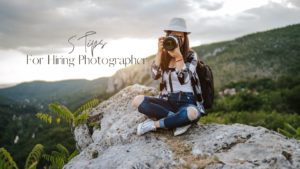 There are a few things to consider when shopping for a photographer. One of the main things about this post is that you are investing in having professional photos. Having a professional capture a special moment will last a lifetime so think about the quality of work that is provided. So take a look at these tips when you are shopping around for a photographer.
Do your research about the photographer. They should have a website that will include a bio page, expertise, what they specialize in, etc. read over what they have to say, and how well their presentation is overall. This should also include their credentials such as education, and any new certifications.
Find someone whose style you love. Envision how you want your images to look, and if you were to display them in your home, would you be proud to showcase them? This will determine the type of photography you like and let me just say there are plenty of photographers out there and each one is different and unique. In my other post, I go into more detail about the different types of photography styles.
Make sure they are an excellent fit first impression is everything. You are investing in professional work so your gut has to let you know if they are the right person to work with. Their communication and professionalism are just a few signs that will let you know.
Determine your budget. While I don't suggest that pricing should be a deciding factor, because professional images are an investment however, keep in mind that every photographer has something different to offer. If you are paying for a service, you should expect as much and your experience should be exemplary from beginning to end.
Take a look at the portfolio. In the process of you looking at everything I previously mentioned, take a peek at their work. This is important regarding creativity, skills, and technical knowledge. You can tell when someone produces quality work because of how well their images look.
Remember these tips when you are looking for a professional photographer. The images they will capture will last forever and you don't want to feel disappointed if they did not deliver. You want to ensure they meet your needs and provide you with quality work.